I have attached my electoral map prediction(s) for tomorrow, election day. No halfway measures on these predictions. My map will not have any shades, just red or blue. The time for predictions with shading is over.
A few comments:
I am torn on several states that are very close, including PA, AZ, FLA, NC, and Georgia. Of those 5 I have given 4 to Trump. (Gritting my teeth on PA, a very tight state that Biden has a great chance to win.) I look at Arizona and I am gritting my teeth there as well, as I believe that Biden has a solid chance to win that state as well. I hear all the chatter on Texas, but the history there just does not allow me to change that to the Democratic column, although that day is getting closer.
I have picked Biden to win Georgia, which also cuts against history, but I believe that in this cycle, with these candidates, Biden can get a close win there. I have left the Maine Second Congressional District with Trump, worth 1 electoral vote, but I have switched Nebraska's Second Congressional District, worth 1 electoral vote, to Biden. If Biden wins either PA or FLA then I think it is safe to say the door is closed to a Trump win. Both the Maine and Nebraska Second Congressional single votes could become vitally important under some conditions
My map would give the win to Trump if he flips Georgia to red, but if he wins Georgia and Biden wins PA then Biden will win the presidency.
The swing states have tightened, and it looks to me like Trump must run the table in order to win re-election. He ran the table in 2016, so a Trump win is still possible.
My last comment is that on the national popular vote I expect Biden to win that by a significantly higher amount than Hillary Clinton did in 2016.
Biden wins with between 275 and 295 electoral votes.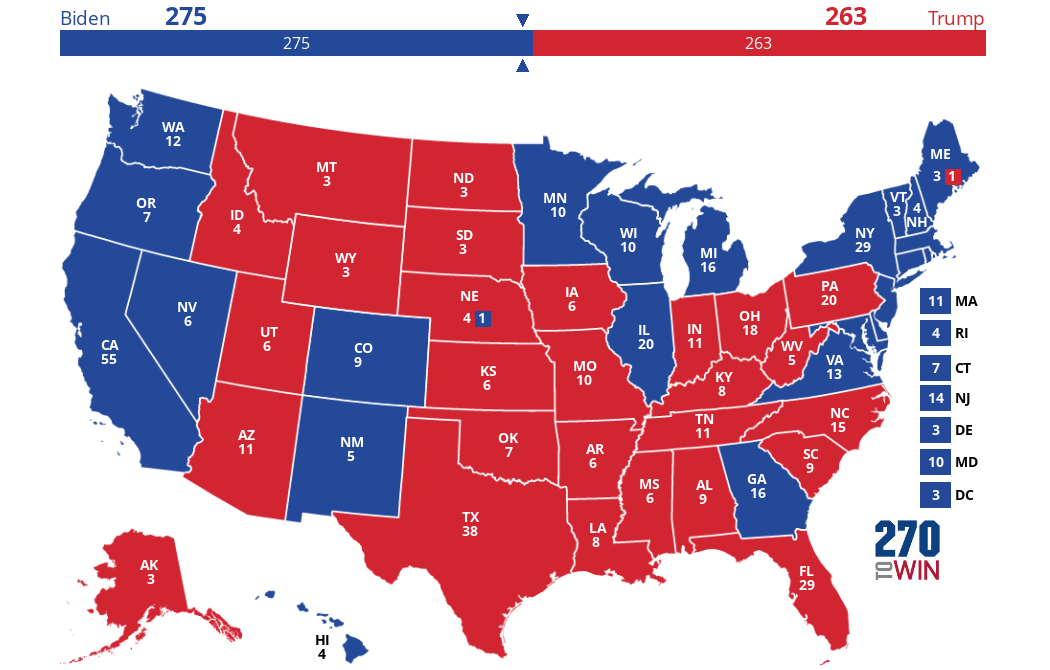 Click the map to create your own at
270toWin.com